Pandit Jasraj's departure to a higher orbit—somewhere between Mars and Jupiter, along with Mozart, Beethoven and Pavarotti—has inspired some fabulous pictures, anecdotes and tributes in the newspapers.
Actually, that's not hyperbole.
As the Hindustan Times reminds us, the International Astronomical Union (IAU) last year named a minor planet as PanditJasraj300128, the number reflecting the date of his birth in reverse, with the other three western gents in the same band.
We now know, thanks to Deccan Chroniclethat there is a street in Hyderabad named after his father, Pandit Motiram, who was a court singer for the Nizam of Hyderabad, and where Jasraj spent his early years.

We now know he used to live with his parens at Phoolbagh near Moazzam Jahimarket in Hyderabad. And that he would skip school to listen to Begum Akhtarbeing played on the gramophone at an Irani cafe serving tea.

We also know, courtesy all newspapers that he debuted as a tabla artist and his first stage concert as a vocalist was in the darbar for King Tribhuvan Bikram Shah of Nepal at age 22, for which he got 5,000 mohurs (gold coins).
But the two best anecdotes are on social media.
***
The warmest memory comes from Kavita Krishnan, the fiesty CPI leader.
For my mother and her siblings and parents, he was family. As a young man in Kolkata, he used to come to my grandparents' Elgin Road home to teach my 4-5 year-old mum and her elder sister music.
"He would come home early morning, set the two little girls to do riyaz and sleep off on the sofa, telling them to wake him when their mother brought in filter coffee and idlis. The two brats once put signs all over the house saying सोफ़े पर सोना मना है!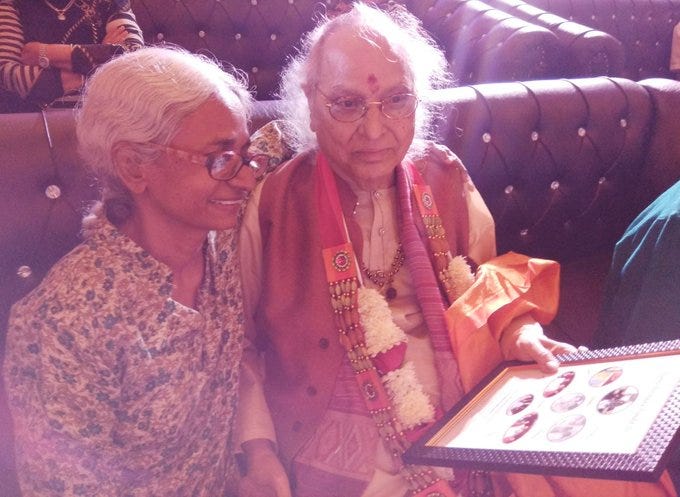 "On Jasraj ji's 89th birthday celebration in Mumbai, mum (above) gifted him some old family photos of him, with a reminder of the "सोफ़े पर सोना मना है" (sleeping on the sofa is prohibited) joke.
"Mum told me that at his 89th birthday function, two tiny little girls had rendered his Mero Allah Meharbaan song at Jasraj ji's request.
In 2016, he called mum in reply to her text asking after his health, to say "look, I'm entering my 88th year, obviously health can't be perfect." She said "who says you are 88? For me you will always be the 25-year-old handsome young man we knew in Calcutta!" He was very tickled.

"In 2010, Jasraj ji made it a point to meet my Patti (mum's mum) in Bangalore (above). They had a very loving meeting and conversation about the old Calcutta memories.

"Jasraj ji performed at Bhilai at the college where my mother was teaching many years ago. On that occasion he visited our home to meet my late dad (who was then ailing).

"My Thatha used to tell us of Jasraj jimeeting him at a fancy Bombay hotel where Thatha was staying. His two children, then little kids, made some mayhem in the hotel room.

"And Thatha, a disciplinarian dad himself, was horrified at how Jasraj ji greeted them with a gentle (and ineffectual) "Sarangbete, Durga beti, badmashi mat karna":)
***
Where is Kedar? Where is Kedar?'
Vanita Kohli Khandekar, the media and entertainment industry analyst, has posted an image which recounts how Pandit Jasrajplayed the tabla at the wedding of the parents of Sreekant Khandekar, the founder of afaqs, in 1946.
And then turned up in 1994 to sing for a six-year-old.
---
Sumana Ramanan in Mumbai Mirror
He learnt vocal music from Muniram and the tabla from the next eldest brother, Pratap Narayan. The story goes that he was accompanying Kumar Gandharva on the tabla. A few members of the audience took objection to Kumar Gandharva's idiosyncratic treatment of the rag Bhimpalas. When Jasraj rose to his defence, a listener told him to stick to playing the tabla. Jasraj then vowed to become a vocalist.
"I couldn't have sung like this"
Nagrajarao Havaldar in Deccan Herald
In 1987, a music festival in Hubli marked Gangubai Hanagal's 75th birthday. After listening to her Ahir Bhairav, Jasraj came up to her, folded his hands in a namaskara, and exclaimed: "I couldn't have sung like this." I was an eye witness to this act of humility. (In 2016, when he received the Gangubai Hanagal memorial award in the same city, he said: "It's my privilege to receive an honour in my mother's name.")
'O mere yaara, agli baar sun lena'
Suanshu Khurana in The Indian Express
He was neither temperamental like Kishori Amonkar nor blissfully unaware like Bhimsen Joshi. After a performance at the Delhi classical music festival last year, a man yelled from the audience: "Pandit ji, aaj tussi Punjabi shabad nahi sunaya (you didn't't sing the Punjabi shabad today). Pt Jasraj smiled and said, 'O mere yaara, kal hi Punjab mein suna ke aaya hoon. Agli baar sun lena (I just sang it yesterday in Punjab. Next time)."